What is it?
It is a modeling material, easy to handle and available in several colours, that consists of PVC and plastisizer.
Creall-therm meets the European safety standard for toys, EN 71-5 and the American standard ASTM (AP-NON toxic). FIMO meets the American safety standard ASTM D-4236.
This material, especially Fimo Classic, requires kneading to make it pliable.
Advantages:


the clay is available in several colours and textures.


it can be hardened in a kitchen oven, max. 110 degrees C (approx. 30 minutes).


it can be hardened several times, allowing you to add things. The same hardening time and temperature.


you can work at your creation several days, if necessary, everytime adding a new part. Cover it against dust.


it can be stored in their original packaging for several years. Store unpacked material wrapped in aluminium foil, in tins or plastic bags.


it is not necessary, but you can varnish or paint your creation (acrylic paints / special Fimo varnish is available in two qualities: solvent- or water-based, matt or gloss).


you can use it on many materials, like wood, iron, glass.


used Fimo can be disposed with the normal refuse.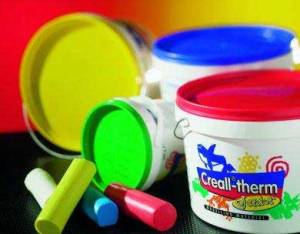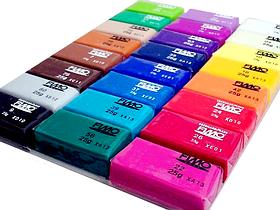 Disadvantages:


polymer clay could pick up dust and other stuff from your work place so keep it clean.


when hardening it can smell a bit when you use a too high temperature (more information click here). Ventilate the room the oven is in.


some colours, especially the darker ones, come off. So you have to wash your hands during kneading.


it is not cheap, best to shop before you buy.
Important:


be sure to have warm hands, it helps modeling the clay.


let the workpiece cool off by itself (in the oven).


do not harden your workpiece at more than 110 degrees C, otherwise your workpiece may burn a bit.


it is better to use a low temperature and longer baking time (up to 50 minutes is possible; sometimes necessary with fragile things).
Tips and additional information:


you could keep your hands clean and help generating some warmth from your hands to the clay if you would put some Vaseline on your hands.


frequently asked questions about Polymer Clay can be found here.


you will find a non-scientific test on five different polymer clays commonly used by artisans and crafters at gigagraphica.


tips & technique from down under.